---
Chittagong Port Agents. Agency Service | Survey | Port Captain
PORT CAPTAIN, TECHNICAL AND CARGO SUPERINTENDENTS
PILOTAGE | PORT AGENCY | MARINE SURVEY
PROJECT CARGO | LOGISTICS
Since 2003
---
OPA| Survey
Sign On/Off. Demo Vessel Handling
Served more than 500 vessels at Chittagong
---
Chittagong Port Agents, Panocean Limited established in 2003 to provide the highest quality| Technical, Operational, Consultancy Services to the Maritime Community.
---
Company Information, Communication & Strength
---
PANOCEAN LIMITED is an ISO certified Chittagong Port Agents, joint stock registered limited liability & customs licensed company and registered Marine Supplier of Bangladesh NAVY. It provides support services of all kinds to the Shipping community here in Bangladesh, taking care of the complete shipping process.Consistently high-quality shipping services gives competitive advantage in navigating the complex shipping environment, increasing efficiency to international ship owners, operators, and charters.
Read More
Chittagong & Mongla
---
Team composed by expert Ex-Master Mariner to serve as Port Captain which indeed offers a considerable advantage to a ship owner in terms of Local Agent, Tug Boat, Port Operator, Repair Work or Negotiation. We want to be your right partner at Chittagong for your vessel's operations, pilotage & surveying to assist your esteem company to improve profits and to reduce yours operational costs.
Read More
Chittagong & Mongla
---
During the work at vessel, shipowners or manager need to replace crew from vessel. Need assistance form shipping agents or OPA for crew sign on or off. Sometime even need injury management or treatment for sick crews. Most of the cases shipowners prefer OPA as port agents are nominated by charterer and they don't care for owners interest. Here we will include all information need to know by shipowners for any decision of crew sign on/off or dealing with any injury case in Bangladesh.
Read More
---
USEFUL LINKS : Underwriters | Shipowners | Charterers | Brokers
---
Outer/ Inner Anchorage
---
Bangladesh covers an area of 147,570 sq km, a little more than the size of Greece. It extends from 20°34N to 26°38N latitude and from 88°01E to 92°41E longitude. Maximum extension is about 440 km in the E-W direction and 760 km in the NNW-SSE direction. Read More
---
Outer/ Inner Anchorage
---
Shipowners or P&I Club often looks for independent company who can carry out discharge supervision/ check tally, on hire or off hire condition survey by 3rd party competent company. Read More
---
Any inquiry or request for information+88-0197 0000 198, Email info@pogroupbd.com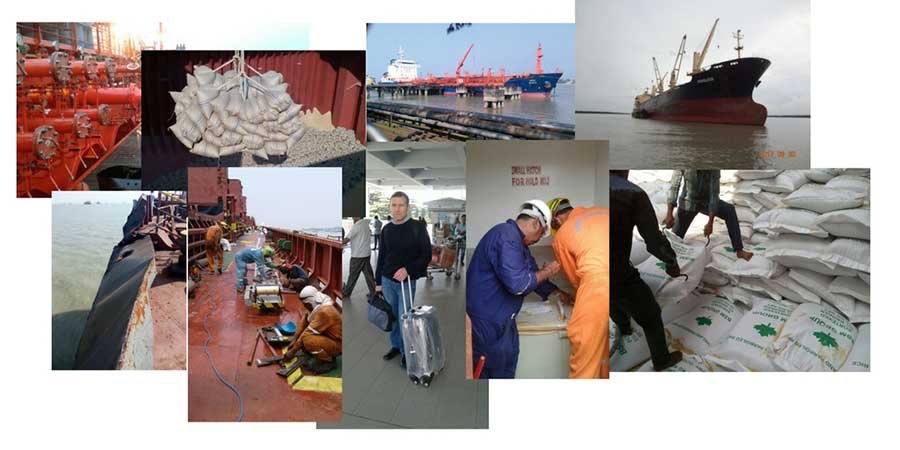 WHY PANOCEAN SERVICE AT CHITTAGONG
Panocean Limited, was established in 2008 to provide the highest quality commercial claims handling, legal consulting, technical services, and shipping services to the maritime community, at competitive prices. Our founding principles are excellence of service, reliability and integrity. As our name implies, we value our independence, and we understand that our success depends upon our sensitivity and responsiveness to our client's needs. We are constantly seeking to add compatible and highly competent surveyors and consultants, with diverse specialties, to the Panocean team. Our established reputations and ability to consistently deliver the high quality work that our clients have come to expect are the hallmarks of our service.PANOCEAN is headquatered at Chittagong, conveniently located near the major port of Bangladesh, enabling faster servicing of its customers. If you are the Shipowner, Charterer, Broker, Insurer, Assured or any other person or body involved into the Shipping World or somehow linked with it you know how important proper risk management or legal advice can be for you, especially when a time limit is the key factor. That is why we are here and we do know how to assist you and your clients.
PANOCEAN EXPERTISE
Panocean provides wide range of service in Maritime Industry. Our team members, available 24/7 for casualty response projects, possess the skills to mitigate financial losses. These skills evolve from a strong knowledge of vessel design & construction; marine law; insurance claims; risk management; port & Customs regulations; the issues surrounding marine insurance coverage, safety and personal injury losses, third-party damage incidents; and an understanding of liability exposure for large loss events. Our surveyors utilize a practical, hands-on approach towards casualty situations and demonstrate a keen sense of economics in protecting our clients' interests.