Comprehensive & Cost-Effective 
Chittagong | Mongla | Matarbari
Crew Change in Bangladesh.
Sign on/ Sign Off at the Maritime Port of Chittagong and Mongla, Bangladesh. Immigration, Formalities and
COVID-19

Procedures.
Bangladesh  Authority has given permission for carrying out crew change at Chittagong and Mongla ports under certain guidelines due to the outbreak of COVID-19.
We are carrying out crew change regularly during this pendamic.  On an average , we are handling 5 to 7 vessels crews sign on/off per month, ensuring all recommended measures of COVID-19. 
On Signer/ Off Signer Crews PCR Test Requirements, as Per Bangladesh Immigration Authority.
As per Bangladesh Immigration requirements, it is now recommended for on-signer crew members need to show a valid  COVID 19 PCR test report on arrival at the Dhaka/ Chittagong airport. In the case of off-signer crew members, we arrange PCR tests onboard the vessel, and crew members need to fly within 72 hrs from the date of the COVID_19 test report issued.
Shipowners, Manning Agents, Managers are requested to communicate with us for OK to board and required suggestions once they decide to take our service during this pandemic. 
Since 2003, Panocean Ltd. actively serving in Bangladesh and providing cost-effective comprehensive support to Ship Owners and Crew Manning Companies for their crew change program in Bangladesh. Emergency joining/ sign off and the CIVID-19 test report are arranged locally, which are accepted by all international airlines operating in Bangladesh.
Crew safety, Cost-Effective Service, Immediate Support and 24/7 Availability are the best features, which made us the most preferred shipping company in Bangladesh to protect foreign shipowners interest.
COVID-19 REQUIREMENTS FOR CREW CHANGE IN BANGLADESH
On signers must need to bring COVID_19 PCR Test Report, on arrival at the airport.
Off signers need to fly within 72 hrs from the date of COVID_19 test report issued. In the meantime, also note if any crew member found temperature more than 98 degrees Fahrenheit, any fever or COVID_19 positive, then crews need to maintain 14 days quarantine.
Inquiry –   info@panoceanbd.com
In changing circumstance, when you plan to carry out crew change in Bangladesh, being protective agents at Chittagong, Mongla or Payra port, we always appreciate that ship owners, provide us flight schedule and sign-on/off program to revert our advice for a cost-effective crew change program at Chittagong and Mongla ports of Bangladesh.
Well experienced team and long professional attachment in Shipping Industry since 2003, make PANOCEAN Limited the ultimate solution for carrying our crew change formalities at Chittagong and Mongla port. We arrange immediate COVID-19 test for off signer to comply with local immigration procedures-

Important Notes on Crew Change In BANGLADESH
01. Each and Every On signer/ Off signer must follow pandemic (COVID-19 ) formalities when planning for a crew change in Bangladesh. PCR Test  report is required for on signer and off signer crew.
02. Chittagong has an International Airport and only a couple of international flights come here. However, Dhaka is the capital city and International Flights mostly comes at Dhaka. Transit time is about 45 min from Dhaka to Chittagong or to Dhaka to Jessore by local connecting flights.
03. Shipowners planning to do crew change in Bangladesh must be concerned about crew safety issues. Indeed, crew safety is our priority. Being OPA or Crew Changing agents at Chittagong Port, we always recommend affordable 2/3 star to  5 Star hotels. Food from inside hotel as well. Shipowners will be able to avail our corporate discount facility once we are informed well in advance. 
04.  Due to pandemic, Authorities has increased number of formalities in sign-on and off. Therefore, please do consult with us prior booking flights.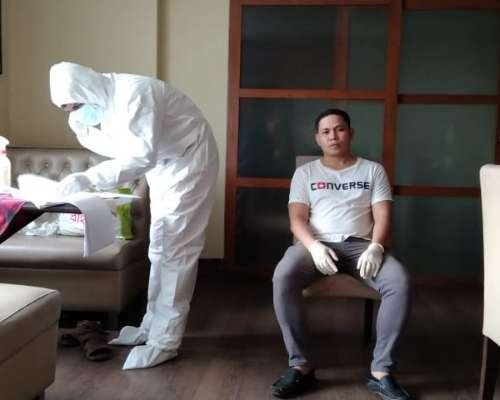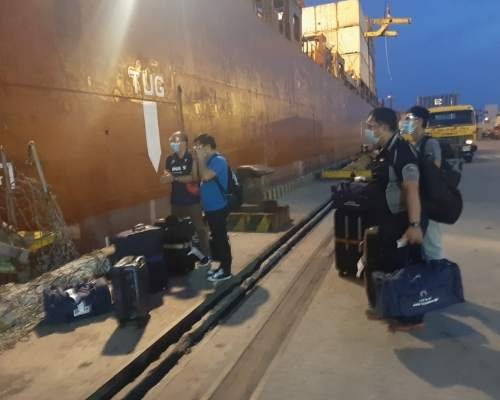 Professional Crew Change Service by Panocean Limited.
 In order to ensure the most cost-effective solution, we recommend shipowners or managers to communicate us well in advance enabling us to provide dates for the sign on/ sign off the program to avoid additional expenses like Hotel/Accommodation and related charges. In case change in Bangladesh, irrespective to different ports and sign on or off the program, we can arrange domestic tickets, if required, to connect international flight from Dhaka.
Following are the regular services are provided for a crew change in Bangladesh-
| | |
| --- | --- |
| No. | Description |
| 1 | Issuance of OK TO BOARD |
| 2 | Meet & Greet Services at Airport (DHK/CTG) Point of Entry/Exit |
| 3 | Crew SIGN ON for Foreign Nationals at CTG port |
| 4 | Crew SIGN OFF for Foreign Nationals at CTG port |
| 5 | Air Ticket (Domestic Chittagong to Dhaka) |
| 5 | Air Ticket (Domestic service DHAKA to CHITTAGONG) |
| 6 | COVID-19 Test and Report Arrangement on Urgent Basic |
| 7 | Safe Accommodation with Corporate discount facility at 3 star, 4 star and 5 star hotels |
| 8 | Safe Transportation at land and sea with escort by our own officials for safe movement |
24/7 Free Consultation:  info@panoceanbd.com
Recommendations for
Sign-On, Sign Off

  Program in Bangladesh.
MEASURES/ PROGRAM FOR CREW CHANGE
Shipowners or manning companies are recommended to contact us well in advance with vessel's arrival date, safe manning information and probable crew arrival date so that we can advise them the sign-off dates as per vessel's discharging program.
CREW CHANGE ON URGENT BASIS-
We are well connected with concerned authorities and long experienced professional is equipped to support in quickest crew sign and off the program for any shipowners who plan for the crew change in Bangladesh ports and we are assigned. Especially, when it is a matter of emergency and need immediate attention, Panocean Limited is the ultimate solution for Chittagong ( renamed Chattogram) port and Mongla port.
COVID-19 TEST AND SUPPORT SERVICE
In addition to enlisted shipping agency in Bangladesh, Panocean Limited is also involved in several CSR activities in Bangladesh.  Ensuring the best reliable crew change support in a cost-effective manner and establishing a long term business relationship is our business policy. We are quite aware of COVID-19 related port rules, regulations, immigration formalities, as our team handling crew change quite regularly. We arrange COVID-19 test in the quickest way within a short period time, which is accepted by Immigration dept.  We are able to handle full batch crew change even on an emergency basis within short notice.  Panocean Limited confirm any reply for your inquiry within a very short period time and understand the significance of any emergency matter. 
NOTE- On signers must need to bring COVID_19 free antibody certificate, on arrival at the airport.
24/7 Comprehensive Support to Ship Owners and Crew Manning Companies for their crew change program in Bangladesh.
Professional Crew Change Service by Panocean Team at Chittagong & Mongla

Crew Change in Bangladesh with Cost Effective Solution with commitment for establinging long term professional relationship.

Serving shipowners and crew manning companies since 2003.

Well experenced in Crew Sign On/ Off and Crew Repatriation

24/7 Attendence, Cost Effective and Live Reporting

We arrange COVID-19 Test on Uregent Basis
+8801824923983, +8801316396641
Sea and Land Transportation, Accommodation and Fooding for Crew Change in Bangladesh.
In order to ensure safety for crew members, we always recommended affordable but secured services for any crew change program at Chittagong or Mongla.
01. Shipowners and Manning companies are requested to update our crew's arrival time so that our office can receive them at the airport and complete formalities for on signers.
02. On completion, on signers will be taken to vessel by speed board if the vessel is at Chittagong port outer anchorage.
03. Off signer may require to stay at Hotel if airlines tickets are not arranged properly. In that case, we recommend single or twin sharing rooms at a discounted rate with our corporate facilities from 2 starts to 5 start hotel.
04. If crew change needs to be carried out from Chittagong port outer anchorage, then our office will collect crews documents from vessel well in advance to complete formalities in time.
05. As per local regulation, we will arrange COVID-19 test at the vessel or at Hotel or at General Hospital, whichever most convenient and secured for crew members.
06. Work done certificate/ invoice will be submitted based on competitive charges, with a commitment for best services.
Crew Change at Different Locations at Chittagong : Facilities & Limitations
Crew Change Program at Chittagong port Outer Anchorage
Shipowners may plan for carrying out crew change while the vessel is anchorage. It is done when the ship is scheduled to discharge full cargo at anchorage.  We don't recommend any crew change at KUTUBDIA, OPA to avoid additional boat expenses and extra charges. Once we are appointed to carry out crew change from ship at anchorage. We receive crews from Airport, complete the local formalities and bring him/ them to vessel at anchorage by secured speed boat. For sign off the program, our official will collect documents from vessel and crews will be brought to shore for formalities and immigration, before they are taken to the airport to catch the scheduled flight. Most of the airlines including QATAR AIRWAYS, INDIAN Airways, Emirates, FLY DUBAI etc. made it is compulsory, in addition of airport immigration requirements, we arrange COVID test either at the vessel or at a local suitable place.
Crew Change Program in Bangladesh from Tanker Vessel carrying LNG and takes berth at Shitakhundo terminal
Most of LNG carrying vessel takes berth at  Shitakundo terminal. We have handled many crew change cases over there. We just need to take some extra measures for sign on or off once carried out from there. It is located at Chittagong but transportation and boat charges are high enough due to communication problem and distance. Especially in rainy season, crew change at this point is little difficult. Another difficulty situation may arise when tanker vessel takes only 10 to 12 hours to complete full cargo discharge. We need to make all work together related to crew change in such like situation.
Crew Change program at Chittagong port inner harbour
It is highly recommended to carry out crew change program once ship is at berth. It is possible if vessel has berthing program. Once we are assigned, we check with port/ owners for discharging program and guide accordingly. Crew change from berth is cost effective as  it saves transportation charges and accommodation expanse, if any required.   Besides this, the whole process is same as  it is applicable for crew change form anchorage, whether it is sign on or off.
Professional OPA Service at Chittagong for crew change program in Bangladesh Ports.
Reliable Partner for Ship Owners and Crew Manning Companies in Bangladesh.
Best Cooperation for crew change program in Bangladesh. Especially when to have a very tight schedule for vessel berthing and sailing, Panocean can help you for the emergency sign on or off the program. We have experience in this area and the number of references can be given to cross-check. Panocean team members experience for more than 8 years and maintaining a good relationship with all concerned authorities which are must for efficient crew change program.
COVID-19 Test facilities in Chittagong and Dhaka, Bangladesh.
Please find below detail information on Private & Govt. Clinics at Chittagong and Dhaka for COVID-19 test, as inquired –
1.    Imperial Hospital Limited, Chittagong – Private Hospital (Recommended)
Address: Zakir Hossain Road, Pahartali 4202 Chittagong, Bangladesh.
Phone: 09612-247247
Email: info@ihlbd.org
2.    Chevron Clinical Laboratory Pte. Ltd. Chittagong – Private Hospital
Address: 12/12 O.R. Nizam Road, Panchlaish,
Post Code: 4203,
Chittagong,
BANGLADESH.
Address: 993/2121 Agrabad Access Road, Boropool Moor, Halishahar, Chattogram.
Land Phone: 031 726811-12
Cellphone: +8801755 666 969, +88031-652533 & +88031-652963  
Email: helpdesk@chevronlab.com  
URL:  https://www.chevronlab.com/  
3.    Chittagong Medical College Hospital, Chittagong – Govt. Hospital
Address: 57, K.B. FAZLUL KADER ROAD, P.S- PANCHLAISH, Chittagong, Bangladesh.
Phone: +88-031-616892-5, +88-031-630180, +88-031-630335, +88-01769247568, +88-01819632013, +88-0171198516
Email: cmch@hospi.dghs.gov.bd | cmc@ac.dghs.gov.bd  
4.    Chittagong General Hospital – Govt. Hospital
Address: Andarkilla Rd, Chittagong, Bangladesh.
Phone: +88 -01711971512
Email: chittagong@hospi.dghs.gov.bd  
5.    Bangladesh Institute of Tropical and Infectious Diseases, Fauzdarhat, Chittagong.
Address: Fouzderhat, Chittagong – 4317
Phone: +880244075160 (office)
E-mail: bitid@hospi.dghs.gov.bd  
 
If member decide to carry out the COVID-19 test at Dhaka, then following Hospital can be considered –
UNITED HOSPITAL
Plot 15, Road 71,
Gulshan, Dhaka-1212
Bangladesh
Tel: +88 02 8836444, +88 02 8836000
Fax: +88 02 8836446
Email: info@uhlbd.com
URL:  http://www.uhlbd.com/  
Normally, crew members join at Chittagong and Mongla ports when vessels are here. Even they also need to fly back to destination airport once shipowners so desire. This page will give detail information as regards crew SIGN-ON or OFF documentations, expense, Domestic and International flights etc. 
We always appreciate efficient management for crew change program in Bangladesh. If there is any on signer and off signer for any vessel currently at Chittagong or Mongla, then there should have total planning well in advance. On signer needs OK to board and off signer need to complete formalities prior to flying for the destination country. Now due to COVID-19 and other related issues, Bangladesh immigration and shipping office imposed several restrictions in sign-on/off the program. However, we can arrange smooth and quickest way for crew sign and off from any port of Bangladesh.
01. The working day for Immigration formalities: Sun to Thursday. However, a special arrangement can be made. 
02. When off signer crew member should leave from the vessel and when they can go to Airport: We need to bring crew member to shore early morning to complete local formalities at working day. It takes 4 to 6 hours. Then they can be taken to Chittagong International Airport after 4 pm or they can be taken to Hotel as per owners desire.
03. What is perfect timing for flights from Chittagong: Please book tickets from Chittagong any time after 5 PM.
04. When off signer documents need to be at our hand: We need documents one working day earlier to do off signers formalities smoothly. If required our official can board the vessel to collect the documents. Boat charge and local communication charge for collecting documents will be USD65.00. If there is any weather danger signal then we don't send our staff to anchorage for safety reason.
05. Is there any other expense: No. We charge USD80 to USD100 for per person sign off expenses. There is no other charge involved.
06. Hotel and Fooding Expense: It depends on Hotel Quality. We recommend for safe Hotel. At 2 or 3 stars safe hotel, with the set menu, Hotel and Fooding expense may range within USD85 to USD150 per day per person. In 4 or 5-star hotels it will be much more.
07. How Hotel and Fooding Expense can be avoided: Crew member should be brought to shore in the early morning and should be taken to the airport prior evening then only Hotel charge can be avoided.
08. Emergency Sign off: Yes, it is possible. The charge will be USD120-200 per person for carrying out formalities on the same day by engaging two to three person for completing the different task on the same day. For this reason, also crew member needs to come to shore early morning before 9 am with documents and safe manning. For more details, reach us at info@panoceanbd.com
09. What is the transportation charge if vessel at anchorage, for sign off of 2 member: First of all we need to bring documents from vessel one day earlier and this will cost USD65 ( boat and local transportation) then in the following day we will bring 2 members from vessel to shore by boat ( USD40.00) and shore to immigration/ customs office then airport (about USD100)
10. Supernumerary persons expense: As sign off will be carried out for Supernumerary persons, extra misc immigration charge may range within USD 150.00 to USD 220.00  per person. This charge will increase if it is at Payra port.
INTERNATIONAL AIRPORT
Chittagong Shah Amanat International Airport, IATA code: CGP, City: Chittagong
---
INTERNATIONAL FLIGHTS
---
01.Flydubai ( Destination: Dubai, UAE)
02.Regent Airways (Destination: Kolkata, India & Bangkok, Thailand, Singapore, Muscat, Malaysia) http://www.flyregent.com/flight-schedule
03.US Bangla Airways (Destination: Kolkata, India & Bangkok, Thailand, Singapore, Muscat, Malaysia, Doha) ttps://us-banglaairlines.com/flight_destination/fares 
04. Air Arabia( Destination: Sharjah)
---
DOMESTIC
AIRPORT  AND FLIGHTS
NO INTERNATIONAL FLIGHT
---
DOMESTIC FLIGHT
01.Regent Airways (Destination: Dhaka) 
02. US-Bangla Airlines (Destination: Dhaka) 
03.Novoair (Destination: Dhaka) 04.Biman Bangladesh Airlines (Destination: Dhaka)
05.Bangladesh Biman (Destination: Dhaka)
HOTEL CHARGES
01. Hotels quality of service range from 1 star to 5 star.
02. Radisson, Peninsular, Agrabad Hotel, Saint Martin are the listed hotels ensure security.
03. Single bed and twin sharing rooms are available.
04. Room rent differs irrespective to Hotels.
05. The charge may range USD40 to USD250per night.
06. Hotel charge in case of Sign on or off, for Mongla port, will increase
FOOD 
EXPENSES
01. Food is normally spicy.
02. Breakfast, lunch and dinner charge per person will range with USD20 to USD300.00 + 
Our Principals ( Most Recent)
 We Served for Crew Sign On/ Off, OPA, CTM, Ship Spares In Transit, Tank Cleaning, 
Garbage Offlanding, Fresh Water Supply
Ocean Ship Management Pte Ltd. Singapore.
DD Shipping Ltd., S.A., Russia.
Johann M.K. Blumenthal GmbH & Co. KG,.Germany
Legacy Ship Management Pvt. Ltd. UAE
J.P.Samartzis Maritime Enterprises Co.S.A.
Legacy Ship Management Pvt. Ltd. UAE
Niovis Shipping Co. S.A. Greece
Synergy Oceanic Services India Pvt. Ltd. India.
MARTI Shipping & Ship Management Co, Inc,. Turkey
Blue Seas Shipping S.A
Lpl Shipping S.A
J.P.Samartzis Maritime Enterprises Co. S.A.
J.P.Samartzis Maritime Enterprises Co. S.A.
Equinox Maritime Ltd
Probulk Shipping & Trading
The China Navigation Co. Pte. Ltd  
The China Navigation Co. Pte. Ltd
Equinox Maritime Ltd
Almi Marine Management S.A.
Probulk Shipping & Trading
Mim Maritime Inc
Allseas Marine SA
Istanbul Shipping Co
Seapioneer Shipping Co. Ltd
Access Shipping Ltd.
Legacy Ship Management Pvt. Ltd.
Sinosea Global Shipping Co. Ltd
Lianyi Shipping
Seapioneer Shipping Co. Ltd
Gp Global Apec Pvt. Ltd.
Orhan Shipping Pvt. Ltd.
Wallem Group
Pola Maritime Ltd.
The Marti Shipping
Vaishno Risk Management LLP.
The Geo Service Maritime Pvt. Ltd.
Waypoint Port Services Private Limited.