Comprehensive & Cost-Effective 
Chittagong | Mongla | Matarbari
Crew Change in Bangladesh.
Sign on/ Sign Off at the Maritime Port of Chittagong and Mongla, Bangladesh.
Immigration, Formalities, and
COVID-19

Procedures.
Panocean Ltd. offering dependable and cost effective crew change (sign on and sign off) services in Bangladesh since 2003. Having head office at Chattogram and branch offices at all the maritime ports of Bangladesh, the company is committed to ensure reliable service to foreign Princiapls. Considering the pandemic/ post pandemic situation, Bangladesh Immigration and Airport Authority have set some requirements for carrying out crew change, and we comply with all the formalities for any regular or urgent crew change program.
Establishing a long-term trusted relationship with ship owners, manning agents, shipping lines is our business philosophy. Whether it is at Chittagong ( renamed Chattogram) port, Mongla port or at Payra, our professional team members will assist all the processes for the documentation, airport/ immigration &  health dept formalities as well as secured & affordable hotel accommodations and transportation at Dhaka, Chittagong, Khulna. 
Need immediate consultation? drop us a brief email at info@panoceanbd.com for an immediate response from our 24/7 options team.
Crew Change at Chittagong, Mongla, and Payra Ports of Bangladesh.
Chattogram and Mongla are the prime  maritime ports in Bangladesh. Most of the shipowners prefer crew sign off /of from these two ports due to communication and other faclities.  Chattogram is the port city and Dhaka is the capital city of Bangladesh. There are three International Airports in the country and  Hazrat Shahjalal International Airport, Dhaka is the largest and the principal international airport.  There is another international airport at Chattogram but most of the international flight comes at Dhaka. Crew change from Chattogram port or other ports requires local communciation by road or  by domestic flight heading towards Dhaka to connect withthe respective international flight. 
POST COVID REQUIREMENTS
Seaport and Airports immigration have waived their RT PCR report requirements, subject to destination country, airlines and vaccination records.  However, we can arrange the report within short time, if there is any emergency requirements. 
WHY PANOCEAN for Crew Change in Bangladesh
Panocean Ltd is active since 2003  with clean reports in all areas of shipping. On average, we are handling 5 to 7 vessels crews sign-on/off per month, ensuring all recommended measures of COVID-19, including sign-on/ off formalities, accommodation, PCR COVID Test.  For immediate inquiries from the 24/7  support team, please e-mail us at info@panoceanbd.com .
Crew Change in  Bangladesh Ports.
Immigration, Formalities, and
COVID-19

Procedures.
COVID-19 REQUIREMENTS FOR CREW CHANGE – JOINING IN BANGLADESH
On signers must need to bring COVID_19 PCR Test Report, on arrival at the airport.
Off signers need to fly within 72 hrs from the date of COVID_19 test report issued. In the meantime, also note if any crew member found temperature more than 98 degrees Fahrenheit, any fever or COVID_19 positive, then crews need to maintain 14 days quarantine.
Inquiry –   info@panoceanbd.com
Shipowners, Manning Agents, Managers are requested to communicate with us for OK to board and required suggestions once they decide to take our service during this pandemic. 
Since 2003, Panocean Ltd. actively serving in Bangladesh and providing cost-effective comprehensive support to Ship Owners and Crew Manning Companies for their crew change program in Bangladesh. Emergency joining/sign-off and the CIVID-19 test report are arranged locally, which are accepted by all international airlines operating in Bangladesh.
Crew safety, Cost-Effective Service, Immediate Support, and 24/7 Availability are the best features, which made us the most preferred shipping company in Bangladesh to protect foreign shipowners' interests.
In changing circumstance, when you plan to carry out crew change in Bangladesh, being protective agents at Chittagong, Mongla or Payra port, we always appreciate that ship owners, provide us flight schedule and sign-on/off program to revert our advice for a cost-effective crew change program at Chittagong and Mongla ports of Bangladesh.
Well experienced team and long professional attachment in Shipping Industry since 2003, make PANOCEAN Limited the ultimate solution for carrying our crew change formalities at Chittagong and Mongla port. We arrange immediate COVID-19 test for off signer to comply with local immigration procedures-

Crew Sign On/ Sign Off Formalities
Formalities, Flight, Accommodations, and More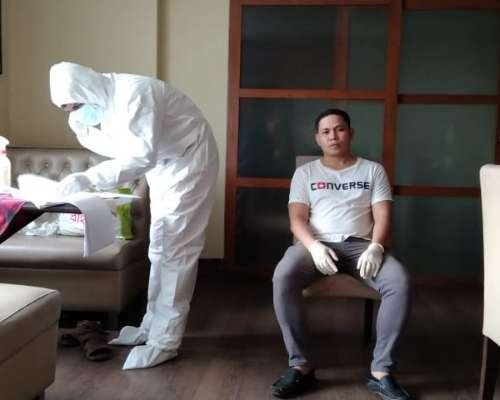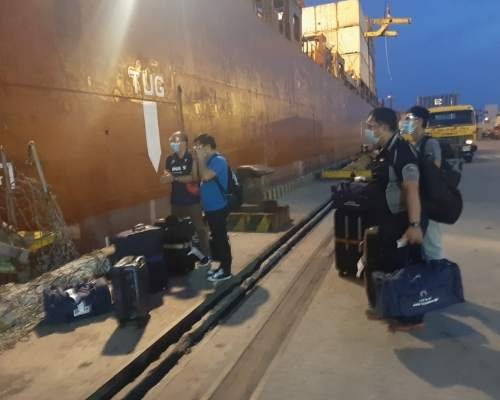 Important Notes on Crew Change In BANGLADESH
01. Each and Every On signer/ Off signer must follow pandemic (COVID-19 ) formalities when planning for a crew change in Bangladesh. PCR Test  report is required for on signer and off signer crew.
02. Chittagong has an International Airport and only a couple of international flights come here. However, Dhaka is the capital city and International Flights mostly comes at Dhaka. Transit time is about 45 min from Dhaka to Chittagong or to Dhaka to Jessore by local connecting flights.
03. Shipowners planning to do crew change in Bangladesh must be concerned about crew safety issues. Indeed, crew safety is our priority. Being OPA or Crew Changing agents at Chittagong Port, we always recommend affordable 2/3 star to  5 Star hotels. Food from inside the hotel as well. Shipowners will be able to avail of our corporate discount facility once we are informed well in advance. 
04.  Due to the pandemic, Authorities have increased the number of formalities in sign-on and off. Therefore, please do consult with us prior to booking flights.
Panocean Ltd is proud to announce involvement in crew manning from Bangladesh when ocean-going vessel owners require professional support and competent crew members for their vessel.
Notes on Chinese Crew Change ( Sign Off) in  BANGLADESH.
1)    We need ticket 15 days earlier for the crew members.
2)    As per the Chinese Govt. rules and regulations, they need to maintain 7 days isolation at home or in general hotel. And need to perform the PCR test 14-15 days earlier.
3)    As per the Chinese Govt. rules and regulations, they need to maintain another 7 days quarantine at Chinese approval hotel here in Bangladesh.
4)    They need to perform again 3 PCR tests. 1st PCR test need to be carry out 7 days before their ticket. 2nd PCR test need to carry out  mid time of the quarantine, and 3rd PCR test need to be carry out 48 hrs prior flight ticket. IGM test needs to be carry out also before they fly from Bangladesh.
European Crew Change in Bangladesh Ports- Chattogram and Mongla
Ships with Greek, Cypruss, Portugal or Ukraine crews also can carry out crew change in Bangladesh maritime ports. Recently announcement came from Greece that they exempted seafarers from COVID-related travel restrictions. The Greek government listed several country in the list. And informed that seafarers and citizens coming from Algeria, Australia, Georgia, New Zealand, Rwanda, South Korea, Thailand, Tunisia, Canada, Japan, Morocco,and Uruguay, are from now on allowed to enter the region. Panocean is  aware about the formalities involved for Greece crew members when appointed to carry out crew sign-on in Bangladesh or off from Bangladesh. 
SARS­CoV­2 (COVID­19) Methodology
The SARS­CoV­2 (COVID­19), RT­PCR assay is intended for the qualitative detection of RNA from SARS­CoV­2 virus in human
nasopharyngeal swab specimens. The COVID­19 One­Step High Trhough put PCR Kit utilizes a fluorescent probe and a specific primer to detect two specific regions with the novel coronavirus (SARS­CoV­2) nucleocapsid protein N gene as well as a proprietary buffer which enables the use of crude saliva or swabs directly in the PCR reaction.
Professional Crew Change Service in Bangladesh by Panocean Limited.
In order to ensure the most cost-effective solution, we recommend shipowners or managers to communicate us well in advance enabling us to provide dates for the sign on/ sign off the program to avoid additional expenses like Hotel/Accommodation and related charges. In case of change in Bangladesh, irrespective of different ports and sign on or off the program, we can arrange domestic tickets, if required, to connect international flights from Dhaka.
24/7 Free Consultation:  info@panoceanbd.com
Recommendations for Sign-On, Sign-Off Program in Bangladesh.
MEASURES/ PROGRAM FOR CREW CHANGE
Shipowners or manning companies are recommended to contact us well in advance with vessel's arrival date, safe manning information and probable crew arrival date so that we can advise them the sign-off dates as per vessel's discharging program.
CREW CHANGE ON URGENT BASIS-
We are well connected with concerned authorities and long experienced professional is equipped to support in quickest crew sign and off the program for any shipowners who plan for the crew change in Bangladesh ports and we are assigned. Especially, when it is a matter of emergency and need immediate attention, Panocean Limited is the ultimate solution for Chittagong ( renamed Chattogram) port and Mongla port.
COVID-19 TEST AND SUPPORT SERVICE
In addition to enlisted shipping agency in Bangladesh, Panocean Limited is also involved in several CSR activities in Bangladesh.  Ensuring the best reliable crew change support in a cost-effective manner and establishing a long term business relationship is our business policy. We are quite aware of COVID-19 related port rules, regulations, immigration formalities, as our team handling crew change quite regularly. We arrange COVID-19 test in the quickest way within a short period time, which is accepted by Immigration dept.  We are able to handle full batch crew change even on an emergency basis within short notice.  Panocean Limited confirm any reply for your inquiry within a very short period time and understand the significance of any emergency matter. 
NOTE- On signers must need to bring COVID_19 free antibody certificate, on arrival at the airport.
Professional Crew Change Service by Panocean Team at Chittagong & Mongla

Crew Change in Bangladesh with Cost Effective Solution with commitment for establinging long term professional relationship.

Serving shipowners and crew manning companies since 2003.

Well experenced in Crew Sign On/ Off and Crew Repatriation

24/7 Attendence, Cost Effective and Live Reporting

We arrange COVID-19 Test on Uregent Basis
+8801824923983, +8801316396641
24/7 Comprehensive Support to Ship Owners and Crew Manning Companies for their crew change program in Bangladesh.
24/7  Inquiry for Chittagong and Mongla Port Crew change
info@panoceanbd.com
Sea and Land Transportation, Accommodation and Fooding for Crew Change in Bangladesh.
In order to ensure safety for crew members, we always recommended affordable but secured services for any crew change program at Chittagong or Mongla.
01. Shipowners and Manning companies are requested to update our crew's arrival time so that our office can receive them at the airport and complete formalities for on signers.
02. On completion, on signers will be taken to vessel by speed board if the vessel is at Chittagong port outer anchorage.
03. Off signer may require to stay at Hotel if airlines tickets are not arranged properly. In that case, we recommend single or twin sharing rooms at a discounted rate with our corporate facilities from 2 starts to 5 start hotel.
04. If crew change needs to be carried out from Chittagong port outer anchorage, then our office will collect crews documents from vessel well in advance to complete formalities in time.
05. As per local regulation, we will arrange COVID-19 test at the vessel or at Hotel or at General Hospital, whichever most convenient and secured for crew members.
06. Work done certificate/ invoice will be submitted based on competitive charges, with a commitment for best services.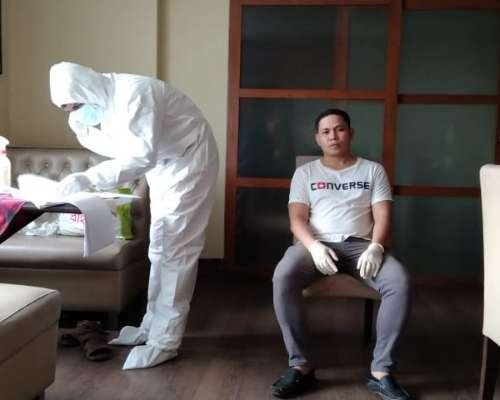 Travel Requirements for Bangladesh
Traveling to or from Bangladesh isn't as easy now as it was two to three years ago. All this is because of the most recent pandemic. Since the vaccine has arrived, anyone who wants to enter or exit Bangladesh must be vaccinated in order to get to fly on a plane. A few guidelines regarding this traveling schedule are given below.
Travel To Bangladesh
Following are the guidelines that needed to be followed by travelers to enter Bangladesh.
Travelers who are carrying a proof that they've been vaccinated from a WHO approved Vaccination Center before two weeks of their journey can enter Bangladesh without further restrictions.
Non-Vaccinated Passengers
Passengers who are not vaccinated or partially vaccinated can also enter Bangladesh but they'll have to quarantine for at least 7 days at a hotel or 14 days at home and must have a negative report after quarantine days.
Passengers having Covid-19 Symptoms on Arrival
Passengers having Covid-19 symptoms will be sent to a Government hospital for a checkup and then quarantined without taking a look at the vaccination proof and will be released when a negative Covid report will arrive. Non-vaccinated passengers below the age of 18 can enter Bangladesh if other family members of him/her are vaccinated fully. However, children below 10 can travel without any certificate.
Covid-19 Testing Requirements
The passengers who travel to Bangladesh must have a negative Covid-19 report (valid for 72 hours only) from a WHO approved test centre. All ministers and their family members must follow the same suit for their arrival.
Quarantine
Quarantine protocols are same for both ministers and common people. However, for former, it is sponsored by the Government of Bangladesh.
Exemptions
Passengers below 12 can travel without a negative Covid-19 report.
Required Forms
Travelers must bring a health card with them also to submit it.
Travel from Bangladesh
Traveling from Bangladesh will require you to know the requirements of your destination.
Covid-19 Testing Requirements
Before traveling anywhere, passengers must have a negative Covid-19 test report.
Crew Change at Different Locations at Chittagong : Facilities & Limitations
Crew Change Program at Chittagong port Outer Anchorage
Shipowners may plan for carrying out crew change while the vessel is anchorage. It is done when the ship is scheduled to discharge full cargo at anchorage.  We don't recommend any crew change at KUTUBDIA, OPA to avoid additional boat expenses and extra charges. Once we are appointed to carry out crew change from ship at anchorage. We receive crews from Airport, complete the local formalities and bring him/ them to vessel at anchorage by secured speed boat. For sign off the program, our official will collect documents from vessel and crews will be brought to shore for formalities and immigration, before they are taken to the airport to catch the scheduled flight. Most of the airlines including QATAR AIRWAYS, INDIAN Airways, Emirates, FLY DUBAI etc. made it is compulsory, in addition of airport immigration requirements, we arrange COVID test either at the vessel or at a local suitable place.
Crew Change Program in Bangladesh from Tanker Vessel carrying LNG and takes berth at Shitakhundo terminal
Most of LNG carrying vessel takes berth at  Shitakundo terminal. We have handled many crew change cases over there. We just need to take some extra measures for sign on or off once carried out from there. It is located at Chittagong but transportation and boat charges are high enough due to communication problem and distance. Especially in rainy season, crew change at this point is little difficult. Another difficulty situation may arise when tanker vessel takes only 10 to 12 hours to complete full cargo discharge. We need to make all work together related to crew change in such like situation.
Crew Change program at Chittagong port inner harbour
It is highly recommended to carry out crew change program once ship is at berth. It is possible if vessel has berthing program. Once we are assigned, we check with port/ owners for discharging program and guide accordingly. Crew change from berth is cost effective as  it saves transportation charges and accommodation expanse, if any required.   Besides this, the whole process is same as  it is applicable for crew change form anchorage, whether it is sign on or off.
Professional OPA Service at Chittagong for crew change program in Bangladesh Ports.
Reliable Partner for Ship Owners and Crew Manning Companies in Bangladesh.
Best Cooperation for crew change program in Bangladesh. Especially when to have a very tight schedule for vessel berthing and sailing, Panocean can help you for the emergency sign on or off the program. We have experience in this area and the number of references can be given to cross-check. Panocean team members experience for more than 8 years and maintaining a good relationship with all concerned authorities which are must for an efficient crew change program.
In the case of crew members from Turkey, Greece, Ukraine, Singapore, China, the Philippines, and India, we ensure accommodation and food arrangement based on crews requirements and culture. Crews are requested to keep our team well information in respect of any special requirements.
COVID-19 Test facilities in Chittagong and Dhaka, Bangladesh.
Please find below detail information on Private & Govt. Clinics at Chittagong and Dhaka for COVID-19 test, as inquired –
1.    Imperial Hospital Limited, Chittagong – Private Hospital (Recommended)
Address: Zakir Hossain Road, Pahartali 4202 Chittagong, Bangladesh.
Phone: 09612-247247
Email: info@ihlbd.org
2.    Chevron Clinical Laboratory Pte. Ltd. Chittagong – Private Hospital
Address: 12/12 O.R. Nizam Road, Panchlaish,
Post Code: 4203,
Chittagong,
BANGLADESH.
Address: 993/2121 Agrabad Access Road, Boropool Moor, Halishahar, Chattogram.
Land Phone: 031 726811-12
Cellphone: +8801755 666 969, +88031-652533 & +88031-652963  
Email: helpdesk@chevronlab.com  
URL:  https://www.chevronlab.com/  
3.    Chittagong Medical College Hospital, Chittagong – Govt. Hospital
Address: 57, K.B. FAZLUL KADER ROAD, P.S- PANCHLAISH, Chittagong, Bangladesh.
Phone: +88-031-616892-5, +88-031-630180, +88-031-630335, +88-01769247568, +88-01819632013, +88-0171198516
Email: cmch@hospi.dghs.gov.bd | cmc@ac.dghs.gov.bd  
4.    Chittagong General Hospital – Govt. Hospital
Address: Andarkilla Rd, Chittagong, Bangladesh.
Phone: +88 -01711971512
Email: chittagong@hospi.dghs.gov.bd  
5.    Bangladesh Institute of Tropical and Infectious Diseases, Fauzdarhat, Chittagong.
Address: Fouzderhat, Chittagong – 4317
Phone: +880244075160 (office)
E-mail: bitid@hospi.dghs.gov.bd  
 
If member decide to carry out the COVID-19 test at Dhaka, then following Hospital can be considered –
UNITED HOSPITAL
Plot 15, Road 71,
Gulshan, Dhaka-1212
Bangladesh
Tel: +88 02 8836444, +88 02 8836000
Fax: +88 02 8836446
Email: info@uhlbd.com
URL:  http://www.uhlbd.com/  
COVID-19 PROTOCOLS (RIC) FOR CREW ARRIVING MANILA  FROM BANGLADESH- ADVISORY FOR ALL PASSENGERS:
Face masks and shields must be worn at all times in all Philippine airports, as well as in transiting to any airports going to final destination.  Furthermore, all airlines are requiring to wear face mask and shield during flights. Please observe social distancing at all times.
Additional Guidelines/Protocols for passengers arriving in Manila:
Please follow instructions carefully:
Note: An Overseas Filipino Worker or OFW is a person from the Philippines who is living and working in another country, typically on a temporary basis. This includes land-based OFWs and seafarers/sea-based OFWs. Families traveling together with at least one OFW will be considered all OFWs.
In compliance with Philippine government regulations, travelers arriving in the Philippines starting May 8, 2021 and onwards shall undergo 14 days of quarantine, 10 of which shall be observed at an accredited hotel or facility, and the remaining 4 to be completed at home under the monitoring of their respective Local Government Units.  Travelers shall also undergo an RT-PCR test on the seventh day of their quarantine stay.
You must stay at a hotel accredited by our Tourism and Health Agencies while you wait for your scheduled test and the release of results. You can only check out from your hotel on the tenth day of your quarantine stay. Day 1 starts on your arrival date.
If you are fully vaccinated, whether in the Philippines or abroad, and are coming from "Green" countries, you are required to hold only a 7-day booking. For more information on fully vaccinated passengers, check https://bit.ly/PALTravelsToPH-Vaccinated
BEFORE YOU FLY AND DURING CHECK-IN
1. All travelers should register to the Bureau of Quarantine e-Health Declaration Card including children. Register to the BOQ One Health Pass (OHP) to declare your personal information, health status, and travel history. Please note that this is a 2-step registration process.
Step 1: Register through https://www.onehealthpass.com.ph/e-HDC and completely fill-out all required fields. Upon completion, please ensure to save a copy of your unique transaction number which you need as you finish your registration for the e-HDC before boarding your flight.
Step 2: Prior to boarding, answer the e-HDC at https://www.onehealthpass.com.ph/e-HDC by entering your unique transaction number to retrieve your record. Upon completing all the information, you will receive your unique QR code which you need to present before boarding and upon arrival.
Note: All information shared in the One Health Pass are solely collected and processed by the Bureau of Quarantine. The One Health Pass website is independent of airlines and airlines has no control over said website. airlines are only providing the link to OHP for your convenience only. Airlines, its officers, directors, employees and/or agents shall not be liable for any direct, indirect, punitive, incidental, or consequential damages that may arise in your use of the OHP website.
2. Upon check-in, sign the Declaration and Waiver Form presented by our check-in agent, indicating that you are healthy and fit to travel.
DURING THE FLIGHT
3. Accomplish the Bureau of Customs Form, OWWA Care Slip, and Arrival Card.
4. Ensure that the copy of your One Health Pass QR code is available for presentation upon arrival. If you do not have it yet, please refer to step 1 – Before You Fly.
WHEN YOU ARRIVE
5. Upon arrival, listen to the briefing conducted by the Philippine Coast Guard.
6. Undergo a temperature check, present the BOQ One Health Pass QR Code upon deplaning, and proceed to the designated waiting area.
7. For sea-based OFWs, wait for your turn to proceed to the verification booth. Present your QR code. For land-based OFWs, you may skip this step.
8. Clear with immigration and submit the Arrival Card.
9. Proceed to your respective desks for your quarantine hotel assignment:
·         For land-based OFWs and your dependents, proceed to the Overseas Workers Welfare Administration (OWWA) Desk. Present the same QR code from the e-CIF and submit the OWWA Project Care Slip.
·         For sea-based OFWs and your dependents, proceed to the Maritime Industry Authority (MARINA) Desk
10. Claim your baggage at the designated carousel and clear with Customs Check.
11. Exit the terminal and wait for your shuttle/bus that will take you to your assigned hotel.
AT THE QUARANTINE HOTEL
12. Check in at your hotel and wait for the schedule of your test on day 7. Please be reminded that your scheduled test may be postponed the next day or at a later date for any unforeseen circumstances (e.g., typhoons, flashfloods, strikes, shift in stricter community quarantine status, etc.).
Day 1 starts on the day you arrive in the Philippines. If you develop COVID-19 symptoms (e.g., dry cough, shortness of breath, loss of taste and/or smell, etc.) at any time before your scheduled test, please inform the hotel you are staying in so a medical or BOQ officer can assess and check up on you immediately.
13. Your accommodation and food during your stay will be shouldered by the Philippine government. Any additional hotel fees due to required extensions will be shouldered by their governing agency.
GOING HOME
14. If you test positive, the BOQ shall transfer you to a designated hospital for further medical management.
If you test negative, your test result and quarantine certificate will be released on day 9 of your quarantine stay. You are allowed to check out only on the tenth day of your stay, even if your test results and certificate are released at an earlier time. Present your test result together with your medical certificate to the assigned quarantine personnel at your hotel for clearance. For a hard copy of your certificate, printing services will be available at your hotel.
To follow up on your test results, please contact OWWA or your respective LMAs.
15. Once you are cleared, you may contact your relatives to pick you up and bring you home.
·         For Land-Based OFWs, you may coordinate with OWWA or use the OWWA Uwian Na portal for further transportation needs after your final point of arrival.
·         For Sea-Based OFWs, you may coordinate with your Local Manning Agency (LMA) for further transportation needs after your final point of arrival.
16. Please complete your 14-day quarantine or self-isolation under the monitoring of your LGU and Barangay Health Emergency Response Teams (BHERT).
TRAZE APP:
to:  All Passengers departing/arriving in the Philippines.
Effective November 28, 2020, ALL DEPARTING AND ARRIVING PASSENGERS will be REQUIRED to download and register an account in the TRAZE CONTACT TRACING mobile app prior to entry in the airports, as mandated by Department of Transportation.
Procedure are as follows:
1. Download (at Google Play for Android / Apps Store for IOS – see links below) and register in the Traze Application for the creation of a unique QR code per person;
2. Using the Traze App, scan the QR Codes located at the entrance of all terminals prior to entering the premise/s; and
3. Once inside the premises, one should scan QR codes upon entry in new areas. QR codes will be found in strategic locations of the airport terminals and administrative building and offices.
For those who cannot access the Traze App due to gadget limitations, personnel at the Malasakit help desks (Customer Service) will be on hand to assist them in printing a QR code for their use. Data of users will be stored in a server where information may be derived in case of contact tracing need.
Download Traze App
For users outside the Philippines, download app at https://www.traze.ph/download.html
AIRLINES:
BG – BIMAN BANGLADESH
QR – QATAR AIRWAYS
PR – PHIL. AIRLINES
AIRPORTS:
CGP – CHITTAGONG
DAC – DHAKA
DOH – DOHA
MNL – MANILA
Confirmation from QR Manila office regarding Re-tagging of baggage at DOH airport until Manila
Normally, crew members join at Chittagong and Mongla ports when vessels are here. Even they also need to fly back to destination airport once shipowners so desire. This page will give detail information as regards crew SIGN-ON or OFF documentations, expense, Domestic and International flights etc. 
We always appreciate efficient management for crew change program in Bangladesh. If there is any on signer and off signer for any vessel currently at Chittagong or Mongla, then there should have total planning well in advance. On signer needs OK to board and off signer need to complete formalities prior to flying for the destination country. Now due to COVID-19 and other related issues, Bangladesh immigration and shipping office imposed several restrictions in sign-on/off the program. However, we can arrange smooth and quickest way for crew sign and off from any port of Bangladesh.
01. The working day for Immigration formalities: Sun to Thursday. However, a special arrangement can be made. 
02. When off signer crew member should leave from the vessel and when they can go to Airport: We need to bring crew member to shore early morning to complete local formalities at working day. It takes 4 to 6 hours. Then they can be taken to Chittagong International Airport after 4 pm or they can be taken to Hotel as per owners desire.
03. What is perfect timing for flights from Chittagong: Please book tickets from Chittagong any time after 5 PM.
04. When off signer documents need to be at our hand: We need documents one working day earlier to do off signers formalities smoothly. If required our official can board the vessel to collect the documents. Boat charge and local communication charge for collecting documents will be USD65.00. If there is any weather danger signal then we don't send our staff to anchorage for safety reason.
05. Is there any other expense: No. We charge USD80 to USD100 for per person sign off expenses. There is no other charge involved.
06. Hotel and Fooding Expense: It depends on Hotel Quality. We recommend for safe Hotel. At 2 or 3 stars safe hotel, with the set menu, Hotel and Fooding expense may range within USD85 to USD150 per day per person. In 4 or 5-star hotels it will be much more.
07. How Hotel and Fooding Expense can be avoided: Crew member should be brought to shore in the early morning and should be taken to the airport prior evening then only Hotel charge can be avoided.
08. Emergency Sign off: Yes, it is possible. The charge will be USD120-200 per person for carrying out formalities on the same day by engaging two to three person for completing the different task on the same day. For this reason, also crew member needs to come to shore early morning before 9 am with documents and safe manning. For more details, reach us at info@panoceanbd.com
09. What is the transportation charge if vessel at anchorage, for sign off of 2 member: First of all we need to bring documents from vessel one day earlier and this will cost USD65 ( boat and local transportation) then in the following day we will bring 2 members from vessel to shore by boat ( USD40.00) and shore to immigration/ customs office then airport (about USD100)
10. Supernumerary persons expense: As sign off will be carried out for Supernumerary persons, extra misc immigration charge may range within USD 150.00 to USD 220.00  per person. This charge will increase if it is at Payra port.
INTERNATIONAL AIRPORT
Chittagong Shah Amanat International Airport, IATA code: CGP, City: Chittagong
---
INTERNATIONAL FLIGHTS
---
01.Flydubai ( Destination: Dubai, UAE)
02.Regent Airways (Destination: Kolkata, India & Bangkok, Thailand, Singapore, Muscat, Malaysia) http://www.flyregent.com/flight-schedule
03.US Bangla Airways (Destination: Kolkata, India & Bangkok, Thailand, Singapore, Muscat, Malaysia, Doha) ttps://us-banglaairlines.com/flight_destination/fares 
04. Air Arabia( Destination: Sharjah)
---
DOMESTIC
AIRPORT  AND FLIGHTS
NO INTERNATIONAL FLIGHT
---
DOMESTIC FLIGHT
01.Regent Airways (Destination: Dhaka) 
02. US-Bangla Airlines (Destination: Dhaka) 
03.Novoair (Destination: Dhaka) 04.Biman Bangladesh Airlines (Destination: Dhaka)
05.Bangladesh Biman (Destination: Dhaka)
HOTEL CHARGES
01. Hotels quality of service range from 1 star to 5 star.
02. Radisson, Peninsular, Agrabad Hotel, Saint Martin are the listed hotels ensure security.
03. Single bed and twin sharing rooms are available.
04. Room rent differs irrespective to Hotels.
05. The charge may range USD40 to USD250per night.
06. Hotel charge in case of Sign on or off, for Mongla port, will increase
FOOD 
EXPENSES
01. Food is normally spicy.
02. Breakfast, lunch and dinner charge per person will range with USD20 to USD300.00 + 
Our Principals ( Most Recent)
 We Served for Crew Sign On/ Off, OPA, CTM, Ship Spares In Transit, Tank Cleaning, 
Garbage Offlanding, Fresh Water Supply
Ocean Ship Management Pte Ltd. Singapore.
DD Shipping Ltd., S.A., Russia.
Johann M.K. Blumenthal GmbH & Co. KG,.Germany
Legacy Ship Management Pvt. Ltd. UAE
J.P.Samartzis Maritime Enterprises Co.S.A.
Legacy Ship Management Pvt. Ltd. UAE
Niovis Shipping Co. S.A. Greece
Synergy Oceanic Services India Pvt. Ltd. India.
MARTI Shipping & Ship Management Co, Inc,. Turkey
Blue Seas Shipping S.A
Lpl Shipping S.A
J.P.Samartzis Maritime Enterprises Co. S.A.
J.P.Samartzis Maritime Enterprises Co. S.A.
Equinox Maritime Ltd
Probulk Shipping & Trading
The China Navigation Co. Pte. Ltd  
The China Navigation Co. Pte. Ltd
Equinox Maritime Ltd
Almi Marine Management S.A.
Probulk Shipping & Trading
Mim Maritime Inc
Allseas Marine SA
Istanbul Shipping Co
Seapioneer Shipping Co. Ltd
Access Shipping Ltd.
Legacy Ship Management Pvt. Ltd.
Sinosea Global Shipping Co. Ltd
Lianyi Shipping
Seapioneer Shipping Co. Ltd
Gp Global Apec Pvt. Ltd.
Orhan Shipping Pvt. Ltd.
Wallem Group
Pola Maritime Ltd.
The Marti Shipping
Vaishno Risk Management LLP.
The Geo Service Maritime Pvt. Ltd.
Waypoint Port Services Private Limited.